POWERSCREEN Warrior 1800 vibrating screen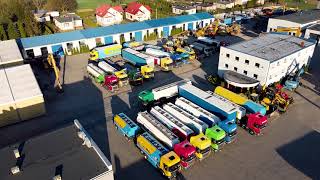 1/25
Location
Poland
Frydrychowo
Remote inspection
Request an independent technical inspection
Need delivery?
Calculate the cost of delivery
We offer full assistance with the purchase of the machine and transport.
Powerscreen Warrior 1800 screening machine
The Powerscreen Warrior 1800 mobile screen is a device with a reinforced structure for screening rock materials in difficult conditions. Depending on the screened material, different types of sieves can be installed on the machine, for example: buffalo, finger grate, "punch plate", woven sieves.
Features and standard equipment:
- Double deck screen
- Screen based on 2 bearings
- Hydraulically adjustable screen angle
- Hydraulic adjustment of the side conveyors
- Hydraulic tail conveyor adjustment for easy access to the lower deck
- Capacity: approx. 500 tons / hour
Equipment options:
- Automatic lubrication system
- Wedge release system
- Radio-controlled caterpillars
- tracked version
- transport length 14.25 m
- transport width 2.75 m
- transport height 3.20 m
- weight about 29,000 kg
It is possible to inspect the machine with your expert / service expert who will be able to confirm the condition and mileage of the machine. We have nothing to hide!
More information at the phone numbers:
show contacts
EN, PL, WhatsApp
show contacts
EN, DE, PL, WhatsApp
Wir bieten volle Unterstützung beim Kauf der Maschine und beim Transport.
Powerscreen Warrior 1800 Siebmaschine
Das mobile Sieb Powerscreen Warrior 1800 ist ein Gerät mit verstärkter Struktur zum Sieben von Gesteinsmaterialien unter schwierigen Bedingungen. Je nach Siebgut können unterschiedliche Siebtypen an der Maschine verbaut werden, zum Beispiel: Büffel-, Fingerrost, "Lochblech", gewebte Siebe.
Merkmale und Serienausstattung:
- Doppeldecker-Bildschirm
- Bildschirm basiert auf 2 Lagern
- Hydraulisch verstellbarer Siebwinkel
- Hydraulische Verstellung der Seitenbänder
- Hydraulische Endbandverstellung für einfachen Zugang zum Unterdeck
- Kapazität: ca. 500 Tonnen / Stunde
Ausstattungsmöglichkeiten:
- Automatisches Schmiersystem
- Wedge-Release-System
- Funkgesteuerte Raupen
- verfolgte Version
- Transportlänge 14,25 m
- Transportbreite 2,75 m
- Transporthöhe 3,20 m
- Gewicht ca. 29.000 kg
Es ist möglich, die Maschine mit Ihrem Sachverständigen / Service-Experten zu besichtigen, der den Zustand und die Laufleistung der Maschine bestätigen kann. Wir haben nichts zu verbergen!
Weitere Informationen unter den Telefonnummern:
show contacts
DE, PL, WhatsApp
show contacts
EN, DE, PL, WhatsApp
Ofrecemos asistencia completa con la compra de la máquina y el transporte.
Cribadora Powerscreen Warrior 1800
La criba móvil Powerscreen Warrior 1800 es un dispositivo con estructura reforzada para el cribado de materiales rocosos en condiciones difíciles. Dependiendo del material tamizado, se pueden instalar diferentes tipos de tamices en la máquina, por ejemplo: búfalo, rejilla de dedos, "placa perforada", tamices tejidos.
Características y equipamiento de serie:
- Pantalla de dos pisos
- Pantalla basada en 2 rodamientos
- Ángulo de pantalla ajustable hidráulicamente
- Regulación hidráulica de los transportadores laterales
- Ajuste hidráulico del transportador de cola para facilitar el acceso a la plataforma inferior
- Capacidad: aproximadamente 500 toneladas / hora
Opciones de equipamiento:
- Sistema de lubricación automática
- Sistema de liberación de cuña
- Orugas radiocontroladas
- versión rastreada
- longitud de transporte 14,25 m
- ancho de transporte 2,75 m
- altura de transporte 3,20 m
- peso alrededor de 29.000 kg
Es posible inspeccionar la máquina con su experto/perito de servicio que podrá confirmar la condición y el kilometraje de la máquina. ¡No tenemos nada que ocultar!
Más información en los teléfonos:
show contacts
ES, PL, WhatsApp
show contacts
ES, DE, PL, WhatsApp
Oferujemy pełną pomoc przy zakupie maszyny i transporcie.
Możliwość kredytowania, leasingu - formalności po naszej stronie !!!
Przesiewacz Powerscreen Warrior 1800
Mobilny przesiewacz Powerscreen Warrior 1800 to urządzenie o wzmocnionej konstrukcji do przesiewania materiałów skalnych w trudnych warunkach. W zależności od przesiewanego materiału na maszynie mogą zostać zamontowane sita różnych typów np.: bofor, ruszt palcowy, "punch plate", sita tkane.
Cechy i wyposażenie standardowe:
- Przesiewacz dwu pokładowy
- Przesiewacz oparty na 2 łożyskach
- Hydraulicznie regulowany kąt przesiewacza
- Hydrauliczna regulacja taśmociągów bocznych
- Hydrauliczna regulacja taśmociągu ogonowego ułatwiająca dostęp do dolnego pokładu
- Wydajność: ok. 500ton/godz.
Opcje wyposażenia:
- System automatycznego smarowania
- System klinowego zwalniania sit
- Gąsienice sterowane radiowo
- wersja gąsienicowa
- długość transportowa 14,25 m
- szerokość transportowa 2,75 m
- wysokość transportowa 3,20 m
- waga około 29000 kg
Istnieje możliwość oględzin maszyny ze swoim rzeczoznawcą/ekspertem z serwisu, który będzie mógł potwierdzić stan i przebieg maszyny. Nie mamy nic do ukrycia!
Więcej informacji pod numerami telefonu:
show contacts
EN, PL, WhatsApp
show contacts
EN,DE, PL, WhatsApp
Niniejsze ogłoszenie jest wyłącznie informacją handlową i nie stanowi oferty w myśl Art. 66. § 1. Kodeksu Cywilnego. Sprzedający nie odpowiada za ewentualne błędy lub nieaktualność ogłoszenia, a dane w nim zawarte mają jedynie charakter informacyjny i mogą ulec zmianie.
Important
This offer is for guidance only. Please request more precise information from the seller.
Safety tips
Seller's contacts
Arkadiusz Zieliński
Languages:
English, Polish
Sebastian Główny
Languages:
English, Polish, German
Poland, Kujawsko-Pomorskie, Frydrychowo, 87-410
Seller's local time: 11:59 pm (CEST)
Selling machinery or vehicles?
You can do it with us!