New VOLVO TAD 1344 GE Stamford 450 kVA Supersilent generatorset New ! diesel generator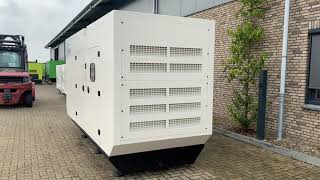 1/26
Model
TAD 1344 GE Stamford 450 kVA Supersilent generatorset New !
Year of manufacture
01/2021
First registration
2021-01-01
Location
Netherlands
Veen
Description
Overall dimensions
14.11 ft × 5.25 ft × 7.81 ft
Buy by leasing
Get an offer to buy a vehicle by leasing
Need delivery?
Calculate the cost of delivery
Field of application: Construction
Supply voltage: 400 V
Generator capacity: 450 kVA
General condition: very good
Technical condition: very good
Visual appearance: very good
Verwendungszweck: Bauwesen
Netzspannung: 400 V
Generatorleistung: 450 kVA
Allgemeiner Zustand: sehr gut
Technischer Zustand: sehr gut
Optischer Zustand: sehr gut
Anvendelsesområde: Konstruktion
Forsyningsspænding: 400 V
Generatorkapacitet: 450 kVA
Overordnet stand: meget god
Teknisk stand: meget god
Visuelt udseende: meget god
Ámbito de aplicación: Construcción
Tensión de alimentación: 400 V
Potencia del generador: 450 kVA
Estado general: muy bueno
Estado técnico: muy bueno
Estado óptico: muy bueno
Domaine d'application: Construction
Tension d'alimentation: 400 V
Capacité du générateur: 450 kVA
État général: très bon
État technique: très bon
État optique: très bon
Te koop
Volvo TAD 1344 GE Stamford 450 kVA Supersilent generatorset
Diverse nieuwe generatoren direct uit voorraad leverbaar !
Neem geheel vrijblijvend contact op en vraag naar de mogelijkheden.
Met:
- ... Ampere breaker
- Motorverwarming
- Supersilent omkasting
- Interne dieseltank met een inhoud van circa
- Lekbak
- Automatische start en handmatige start
- Diverse stekkeraansluitingen
- Met inrijkokers ten behoeve van heftrucklepels
- Carter aftap pomp
- Massaschakelaar accu
- Intercooler
- Turbo
- Bedieningskast
- Motorbeveiliging
- Acculader
- Digitaal bedieningspaneel
- Met intern uitlaat systeem
Motor
Merk : Volvo Penta
Type : TAD 1344 GE-B
Serie nr : 20132071232
Koeling : Watergekoeld
Cilinders : 6
Toerental : 1.500 rpm
Generator:
Merk : Stamford
Type : S4L1D-G41
Serie nr : C20G289756
Vermogen : 450 kVA
Fasen : 3
Cos phi : 0,8
Voltage : 230/ 400 Volt
Frequentie : 50 Hz
Ook voor onderhoud/reparatie, levering van nieuwe en gebruikte machines, expertise en automatische netovername zijn de specialisten van onze firma volledig thuis.
Bent u op zoek naar een generator met specifieke technische eisen , neem dan contact met ons op.
Voor vragen of interesse bel of mail gerust !
Kijk ook op onze website,
show contacts
Type- en specificatiefouten zijn voorbehouden.
Al onze prijzen zijn exclusief Btw, mits anders vermeld.
= Bedrijfsinformatie =
Genoemde prijzen zijn exclusief Btw, mits anders vermeld.
= Meer informatie =
Toepassingsgebied: Bouw
Voedingsspanning: 400 V
Generatorvermogen: 450 kVA
Algemene staat: zeer goed
Technische staat: zeer goed
Optische staat: zeer goed
Obszar zastosowania: Budownictwo
Napięcie zasilania: 400 V
Moc generatora: 450 kVA
Stan ogólny: bardzo dobrze
Stan techniczny: bardzo dobrze
Stan wizualny: bardzo dobrze
Область применения: Строительство
Напряжение питания: 400 V
Мощность генератора: 450 kVA
Общее состояние: очень хорошее
Техническое состояние: очень хорошее
Внешнее состояние: очень хорошее
Important
This offer is for guidance only. Please request more precise information from the seller.
Safety tips
Seller's contacts
Reinier Branderhorst
Languages:
English, German, Dutch
Mon - Fri
08:00 am - 05:00 pm
Netherlands, Noord Brabant, 4264 KM, Veen, Verre Weide 17
Seller's local time: 09:54 pm (CEST)
Selling machinery or vehicles?
You can do it with us!