New ELKON Stacjonarna Betoniarnia ELKOMIX-135 concrete plant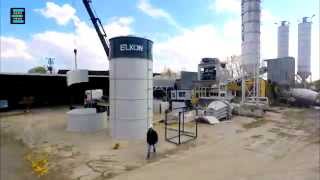 1/22
Model
Stacjonarna Betoniarnia ELKOMIX-135
Location
Poland
Dawidy Bankowe
Need delivery?
Calculate the cost of delivery
STACJONARNA BETONIARNIA ELKOMIX-135
WYDAJNOŚĆ: 120-135 m3/godz.
OPIS:
Stacjonarny węzeł betoniarski ELKOMIX-135 wyposażony jest w dwuwałowy mieszalnik o pojemności 4500/3000 litrów. Ponadto może być również wykonany bez mieszalnika do produkcji betonu suchego.
Stacjonarna betoniarnia ELKOMIX-135 o zdolności produkcyjnej betonu 120-135 m³/h, jest produktem najwyższej jakości i zaawansowanej technologii ELKON.
ZALETY:
- Elastyczna konfiguracja.
- Wysoka wydajność produkcji.
- Łatwa instalacja dzięki modułowej strukturze.
- Możliwość instalacji na ograniczonym obszarze, według wymagań projektu.
- Wygodna obsługa.
- Łatwa konserwacja i niskie koszty operacyjne.
SPECYFIKACJA TECHNICZNA:
Wydajność: 120-135 m3/h
Pojemność zasobnika na kruszywo: 4x30 m3
Typ załadunku kruszywa: Skip / Taśmociąg
Pojemność mieszalnika: 4500 / 3000 litrów
Typ mieszalnika: Dwuwałowy
Stacjonarny węzeł betoniarski ELKOMIX-135 wyposażony jest w buforowy zbiornik na kruszywo, który trzyma potrzebny do produkcji zważony materiał nad mieszalnikiem, podczas trwania poprzedniego cyklu i w oczekiwaniu na kolejny (dostępne jedynie w opcji z taśmociągiem, w wersji ze skipem - kosz pełni taką rolę oczekując na pozycji "postój"). Elkomix-135 gwarantuje użytkownikowi maksymalną efektywność produkcji i oszczędność czasu pomiędzy cyklami.
W zależności od oczekiwań klienta, rzędowe zasobniki na kruszywo mogą zostać wyprodukowane w opcjach posiadających 3, 4, 5, 6 lub więcej komór, co umożliwia użycie różnorodnych materiałów w dowolnej ilości. Dodatkowo, zależnie od miejsca instalacji węzła możliwe są dwie opcje transportowania kruszywa z zasobnika do mieszalnika – taśmociąg lub wózek skipowy (skip).
ELKON dostarcza także węzły betoniarskie do produkcji suchego betonu, w opcji bez mieszalnika. Możliwa jest także jednoczesna produkcja suchego i mokrego betonu za pomocą jednej betoniarni, dzięki dodaniu dodatkowej linii rozładowującej suchy beton do mieszalnika. ELKON zapewnia swoim klientom elastyczność i komfort produkcji, wychodząc naprzeciw oczekiwaniom i potrzebom różnorodnych projektów budowlanych o zmiennych warunkach.
Kiedy pojawia się taka potrzeba, węzły betoniarskie ELKON mogą zostać wyposażone w dwa mieszalniki umieszczone w konstrukcji betoniarni, co pozwala na podwojenie możliwości produkcyjnych maszyny i jednoczesną produkcję dwóch różnych rodzajów betonu.
Każda betoniarnia ELKON zostaje specjalnie dopasowana do placu budowy i miejsca instalacji, aby zapewnić maksymalną oszczędność dostępnego miejsca i produktywność.
***
Więcej informacji na stronie
show contacts
Important
This offer is for guidance only. Please request more precise information from the seller.
Safety tips
Seller's contacts
Marek Piliński
Languages:
English, Ukrainian, Russian, Polish
Mon - Fri
08:00 am - 04:00 pm
Kristina Kolodii
Languages:
English, Ukrainian, Russian, Polish
Mon - Fri
08:00 am - 04:00 pm
Agata Wach
Languages:
English, Polish
Mon - Fri
08:00 am - 04:00 pm
Poland, Mazoweckie, 05-090, Dawidy Bankowe, Starzyńskiego, 46B
Seller's local time: 01:34 am (CEST)
Selling machinery or vehicles?
You can do it with us!