New FABO TWS 02 TWINSHAFT CONCRETE MIXER FOR SALE | STOCK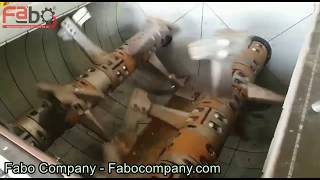 1/9
Model
TWS 02 TWINSHAFT CONCRETE MIXER FOR SALE | STOCK
Location
Turkey
İZMİR
*All of our products are made with care and covered for 1 year warranty!
*Installation and Operator Training FREE

FABO Concrete Mixers; single shaft, twin shaft and planet-type models are produced in three different models and different capacities. The durable and long-life wearing plates, reinforced mixing arms and paddles, has been projected by our engineers to suit every need and capacity. Our mixers have a significant market share both at home and abroad with the price advantage brought by mass production, short delivery time, quality manufacturing and spare part supply guarantee.

Technical details:

 Type: Twinshaft mixer (TWS 02)
 Wet concrete capacity: 2 m3
 Dimensions (length x width x height): 3400 x 3110 x 2000 mm
 Feeding capacity: 3000 lt
 Fresh concrete capacity: 2500 lt
 Compacted concrete capacity: 2000 lt
 Motor power: 2 x 37 kW
 Hydraulic discharge gate
 Automatic lubrication

FOR FURTHER INFORMATION PLEASE FEEL FREE TO CALL US!!!
* Tous nos produits sont faits avec soin et couverts pour 1 an de garantie !
* Formation d'installation et d'opérateur gratuit

FABO Bétonnières ; Les modèles à arbre unique, à arbre double et à planétaire sont produits en trois modèles différents et différentes capacités. Les plaques d'usure durables et résistantes, les bras de mélange renforcés et les palettes ont été projetés par nos ingénieurs pour répondre à tous les besoins et à toutes les capacités. Nos mélangeurs ont une part de marché significative à la fois à la maison et à l'étranger avec l'avantage de prix apporté par la production en série, le délai de livraison court, la fabrication de qualité et la garantie de fourniture de pièce de rechange.


CARACTERISTIQUES TECHNIQUES :

 Type : Mélangeur à double arbre (TWS 02) 2 m3
 Capacité de béton humide : 2 m3 
 Dimensions (longueur x largeur x hauteur) : 3400 x 3110 x 2000 mm 
 Capacité d'alimentation : 3000 lt
 Capacité en béton frais : 2500 lt
 Capacité en béton compacté : 2000 lt
 Puissance du moteur : 2 x 37 kW
 Porte d'éjection hydraulique
 lubrification automatique

POUR PLUS D'INFORMATİONS S'İL VOUS PLAIT N'HESITEZ PAS A NOUS APPELER!!!
• Все наши оборудования произведены с заботой и вниманием!
• Наши установки гарантируются компанией на 1 год!
• Установка и пользовательское обучение бесплатно!
Бетономешалки FABO производятся трех различных моделей: одновальные, двухвальные и планетарного типа, а также в различных вариантах вместимости. Прочные внутренние прокладки и армированные смесители разработаны нашими инженерами для удовлетворения любой потребности и в соответствии с мощностью машины. Наши бетономешалки имеют значительную долю на внутригосударственных и международных рынках благодаря ценовому преимуществу обеспеченному серийным производством, оперативностью доставки, качественными параметрами производства и гарантии поставки запасных частей.

Технические детали:

 Вид: Двухвальный миксер (TWS 02)
 Объем жидкого бетона: 2 м3
 Размеры (длина * ширина * высота): 3400 x 3110 x 2000 мм
 Загрузочный объем миксера: 3000 л
 Объем готового бетона: 2500 л
 Объем сжатого бетона: 2000 л
 Двигатель: 2 * 37 кВт
 Гидравлическая разгрузка
 Автоматическая смазка

ДЛЯ ПОДРОБНОЙ ИНФОРМАЦИИ СВЯЖИТЕСЬ С НАМИ!
Important
This offer is for guidance only. Please request more precise information from the seller.
Safety tips
Seller's contacts
Erdal Bozkurt
Languages:
English, Turkish
Utku Yılmaz
Languages:
English, French, Turkish
Besim Bekir
Languages: English, Turkish, Serbian, Macedonian, Albanian
Turkey, İZMİR, Yazibasi Mah. 231/1 Sok. No:1 Yazibasi / Torbali
Seller's local time: 11:20 pm (+03)
Selling machinery or vehicles?
You can do it with us!